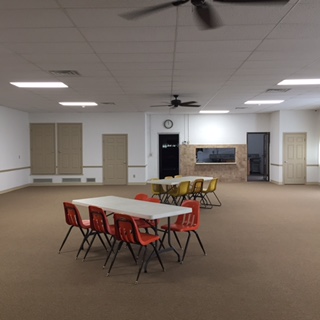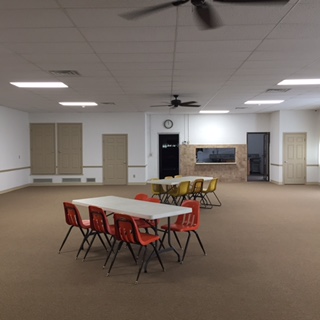 The west building in our complex has been known as "The Annex" since the days the facility was built and used as part of the grade school.  The board of directors voted to change the name from "The Annex" to  the "Burlingame Schuyler Community Center."
While the facility is booked with requests for usage often, the board of directors wanted to reaffirm to everyone that the building is indeed a community building, available for use by anyone, not just members of Burlingame Historical Preservation Society.
The Schuyler Community Center is located at 218 W. Fremont behind the Schuyler Museum.  The facility consists of a large room with folding tables and chairs.  A kitchen is available for use and is stocked with limited equipment. This facility is totally  handicapped accessible.   Bathroom facilities for both men and women are available as well.  Our annual fundraising dinners are held here and it is used for craft exhibitors during the local annual Country Christmas festival.  The center has become a popular location for family gatherings, parties, receptions, class reunions, public events, etc.
Reservations must be made by calling. Call early to reserve your date, as some dates are reserved rapidly.
Burlingame Schuyler Community Center Guidelines for Use
No Animals allowed on the premises
No Smoking in the facility, including rest rooms and kitchen.
No alcoholic beverages are allowed in the facility or on the Burlingame Historical Preservation Society property.
The person(s) requesting the facility is responsible for setting up and removing any decorations and making sure the Guidelines are followed.  Nothing shall be attached to the walls, ceiling fans or ceiling.  No use of  pins, thumb tacks, or tape on ceiling, ceiling fans or walls.

When using drink containers please  put a floor mat (found in the kitchen) under the drip to protect the carpet.  You are welcome to use any utensils, pots or dishes but please return to their proper storage when cleaned.
The person(s) requesting the use of the facility is responsible for leaving the facility as clean as was found, this includes: cleaning floors, tables, bathrooms, and kitchen.   Emptying trash receptacles into dumpsters, replacing bags into trash receptacles, replacing chairs and tables as found.
Return key to contact person within 48 hours.
BHPS  is not responsible for accidents or the loss of items left on the premises.
BHPS has the responsibility and authority to make on the spot corrections of any violation of the above rules.
The Burlingame Historical Preservation Society is a non-profit organization. There are costs involved in providing this facility for your use and enjoyment.
The Community Center is equipped with video surveillance. 
Suggested donations:
Large community room with limited kitchen use…$55.00 per day.
For-Profit groups…$100.00 per day.
Local Non-profit Youth Groups…$15.00 per day
Half a day ….$45.00
T.V. monitor usage deposit $25 (refunded when remote returned)
$50 assurance deposit required.
Deposit refundable if facility is left clean as per general rules.
Out-of-building use of tables…$5 per table
Out-of-building use of folding chairs…$1 per chair
$30 assurance deposit required.
Deposit refundable if returned clean and in good condition within 48 hours.